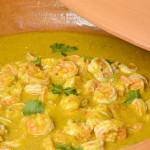 Looking for a delicious and savoury Brazilian seafood dish? Look no further than Bobo de Camarao, a shrimp curry served up at Brazilian restaurants everywhere. This special dinner comes to us from Brazil and brings with it the juicy, succulent flavours that only Afro-Brazilian cuisine can. Using cassava to thicken the sauce, red palm oil for flavour, and shrimp as the main focus of the meal, this dish delights the senses and reminds one of a warm, summer night in Rio De Janeiro.
Bobo de Camarao – Delicious Flavour
While many Brazilian food enthusiasts would agree that Feijoada is the national dish of Brazil, there are plenty of connoisseurs who would argue that Bobo de Camarao is just as (if not even more) delicious. Bobo de Camarao is a favourite in Brazil, especially in the Brazilian state of Bahia. Bahia's food is known for its rich, exotic tastes and is influenced by West African culture. West African culinary influence is evident in much of Brazil's cooking, but especially so in Bahia. Bahia's cooking is hailed as one of the best in the country, and it is known for its spicy and unique flavours.
These unique flavours are evident in the ingredients used in this tasty meal. Bobo de Camarao is sometimes referred to as "Shrimp Bobo" in English. Palm oil (called "dende"), coconut milk, hearts of palm, cassava, and malagueta pepper are just some of the West African inspired ingredients found in Bobo de Camarao. Bobo itself is the name given to any dish made with mashed cassava. While it is traditionally served atop rice, Bobo de Camarao can also be a standalone meal. This special dinner is typically made with shrimp, but the same stew can be made with chicken also, for a different delicious experience.
Everything about this dish may sound exotic, but this spicy, silky curry has long been a comfort food to the people on Brazil. To create this delectable dish, shrimp simmers in a sauce of cassava, red palm oil, and coconut milk, which gives the meal its color. Simmering the shrimp this way causes all the flavours to "get to know each other" in the pot. Once this creamy sauce has reached perfection, it is ladled over a bed of rice. A staple at Brazilian restaurants, this dinner is expertly made by world-class trained chefs who coax the flavour out of the shrimp, thickened cassava, and rich palm oil. They work through the steps to create this dish, build up the flavour, and deliver a warm, rich comfort food that will awake your palate while also relaxing you as you devour this scrumptious curry stew.
Bobo de Camarao is a must-have at any Brazilian restaurant. There's no better way to celebrate the savoury flavours of Brazil than with this meal and a glass of caipirinha, surrounded by those you love. Bring family and friends, and transport yourself to the coastline of Brazil, where excellent flavours and unmatched comfort awaits. Just be warned: One order may not be enough. Once you try it, you may go back for seconds.
Have you tried Bobo de Camarao? Come to our restaurant and try our special cuisine!