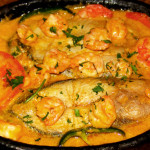 Moqueca de Peixe is a dish that has been celebrated throughout the history of Brazil for hundreds of years, and with good reason.  This hearty and colorful fish stew uses fresh ingredients and zesty flavors while incorporating the delicious taste of palm oil, making this stew a staple Brazilian food.  This stew made with marinated seafood and vegetables is good for the body and the soul, as the ingredients pack high protein and the rich, hot-off-the-stove taste provides relaxation and comfort.
The history of Moqueca de Peixe dates back to three hundred years ago.
However, according to historians, this fish stew may even be older than that.  The use of palm oil and the style of cooking used to make this meal has its origins in African culture, and variations may have been made before the Africans were brought to Brazil on slave ships in the 1600's.  While Brazilians enjoy many kinds of moqueca, Moqueca de Peixe hails from Bahia in the Northeast of Brazil, where African cultural roots run deep and have survived the longest in the country.  Bahia is home to the Coconut Coast, where 120 groves of coconuts grow, making this area the largest producer of coconuts in Brazil. The word 'moqueca' was first coined along the coastlines of Brazil. It translates loosely into "fish chowder" or "fish stew", so it is most likely true that the very first moquecas used fish as the primary ingredient.  As one can see, the ingredients of fish, coconut milk, and palm oil are central to Brazilian cooking, as well as to this dish in particular.
Moqueca de Peixe is a delicious Brazilian dish
Moqueca de Peixe is a delicious Brazilian dish that cooks salt water fish in a stew with tomatoes, garlic, onion, coconut milk, palm oil, and coriander.  While all the ingredients mix together to make a succulent, memorable dish, the real secret is in the palm oil, which adds unique, authentic Brazilian flavor to this meal. The chef that makes this stew must be patient and precise to coax all the complex flavors into this tasty, rich dish that is typically slow-cooked in a clay pot or terracotta cloth.  While Moqueca de Peixe historically incorporates shrimp into the stew, it can also be made with prawn, or boneless fish such as small shark and swordfish.  When the fish stew is tender and expertly cooked, it is traditionally served over rice with a sprinkling of cilantro on top.
Moqueca de Peixe will delight the tastebuds of the simplest to the most discerning palate.  Once you taste this stew, you won't want to wait for cold weather just to enjoy its mouth-watering aroma and flavors.  This meal can be enjoyed year round, no matter what the weather.  Traditionally, this meal was meant to be shared with family, friends, or an entire community of people.  To get the full Brazilian experience, bring along your family and friends to share in this rich tradition.  Try this dish with freshly-made, crusty bread for dipping, or accompany it with a lighter, fruity alcoholic drink, such as caipirinha, for a true taste of Bahia, Brazil.